Bob Weaver Chevrolet Buick GMC Collision Center
Been in an accident? Let the Bob Weaver Body Shop help you! If you're wondering what to do next, take a look at our FAQs after a collision. But if you're ready to let our Collision Center bring your car, truck, or SUV back to its glory days, we're happy to help! You can find us at 2081 West End Avenue in Pottsville, PA.
Call Our Service Department Today at: (866) 925-2236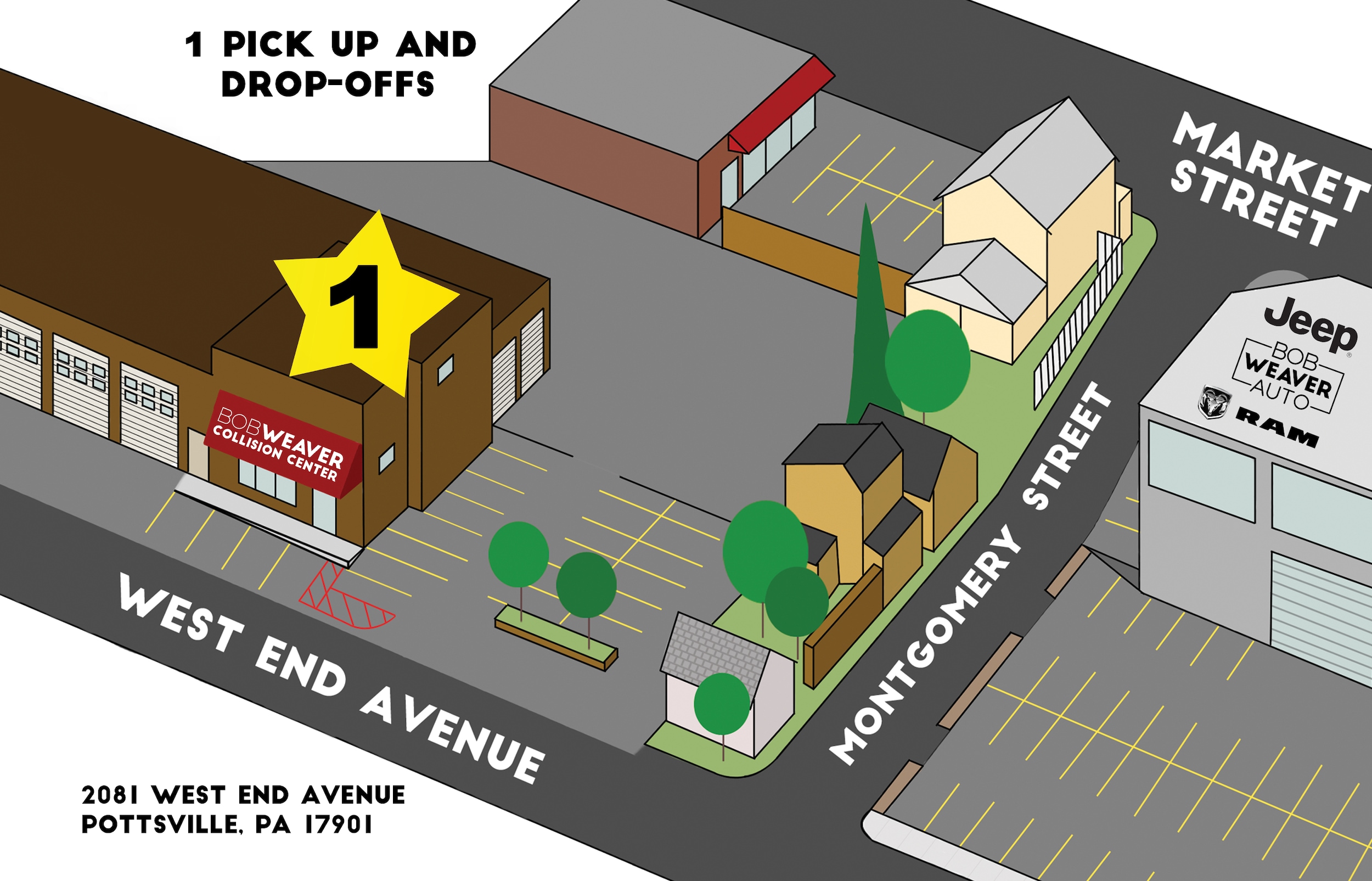 We are equipped with the latest technology, including: Industry-standard Frame Equipment, Computerized Measuring Unibody Equipment, Two Heated Downdraft Spray Booths, and a Computerized Paint Mixing System.
After you've been in an accident, there are several questions you may have about what to do next. Check out our list of Top Ten Questions After a Collision below.
We also offer:
A Written Guarantee - We offer a lifetime warranty on the workmanship of your repair for as long as you own the car.
Our Goal - To put your vehicle back to pre-crash standards and we satisfy your piece of mind.
Training - Our Technicians are certified by I-Car and ASE, the top achievements in our industry. This training keeps our technicians up to date on the latest repair methods and tested procedures, plus our painters have been trained by the paint manufacturer to insure your paint finish will meet your expectations.
Rental Service - We have late model vehicles on site for your convenience. Check your insurance policy for proper coverage.
Free Estimates
Insurance Company Estimates - We are a direct repair center for some insurance companies and honor all insurance company estimates.
Top Ten FAQ's After A Collision
On average, people are involved in a collision once in 12 years. We deal with these circumstances every day of the week. We pledge to serve as your consultant, advising you of your options, every step of the way. Our goal is to return your vehicle to you, in a timely manner, with no evidence of repair.
How many repair estimates do I have to get?
Pennsylvania State law requires only one estimate.
Can my insurance company tell me where the repairs must be done?
No. You have the legal right to have the repairs completed at the facility of your choice.
What if the insurance estimate is less than our repair shop's estimate?
Because of the subjective nature of autobody repairs, negotiations with the insurance carriers are common. We agree to accept the final insurance company payment, with no cost to you other than any applicable deductibles.
What if there are items missed on the original estimate?
Again, because of the nature of collision repairs, it's not uncommon to find more damage once repairs are started. Insurance companies understand this, and pay all accident related damage, regardless of when discovered.
Will the repair shop inform my insurance company about my vehicle being damaged?
No, only the policyholder can open a claim on their insured vehicle.
Who pays the towing & storage bills?
All towing and storage bills, even those incurred to transport your vehicle from a storage facility to our shop, are added to the estimate and paid for by the insurance company.
Who usually writes the estimate?
That depends, some insurance companies write all their own estimates (i.e. Allstate, Travelers), and other companies may ask the vehicle owner or the repair shop to send/fax a copy of an estimate to them.
What is a deductible? When and to whom do I pay it?
The deductible is the portion of the repair bill that is the responsibility of the vehicle owner, according to your insurance policy. It is paid to the repair shop after repairs are complete.
When am I entitled to the use of a rental vehicle?
If you have rental coverage on your policy, and your car is not drivable, you are entitled to a rental vehicle immediately. If you car is still drivable, you may use a rental vehicle while your vehicle is in the shop being repaired. If some other party is liable for the damage to your vehicle, their insurance company will pay the rental fees.
What happens when, five years from now, I have problems with these repairs?
We guarantee our workmanship for as long as you own your vehicle. No local shop offers that kind of warranty.